01:40
Arrived at the hotel in New Delhi, the Florence Inn
On the way a lot of bad roads, and bad or no light at all.

At the hotel we went up with the small elevator. But the elevator stopped at a point and was broken. We where with4 in the elevator, but it didn't go any further, and we were stuk at level 1,5. Danielle didn't like it one bit. The door was opened by the bell-boys, who looked a bit concurned. But we could all laugh about it.

02:00
We all had some drinks in the restaurant, and afterwards straight to bed.

06:00
Wakeup call. Slept well, but very short. Gave the bell-boy a tip for his services, 50 ruppi. which seems to be normal.

06:30
Took a shower. The complimentry shampoo had to be opened with my pocketknife, as it was to hard to rip without it.

07:45
Breakfat, indian coffee, 2 toats with egg, and one with jam.

08:00
Ready to leave with the taxi-van. Luckely there was airco in it. It was very very hot and clammy.

11:45
Stoped for a lunch in an "oase". The food was good. The weather was still hot and clammy.

On the way we saw many "almost-accidents". Everyone seems to be alter for this. All went went, which gave me a strange feeling. I think it's a matter of a having big hart and a big trust in the fellow indian.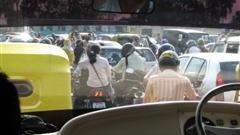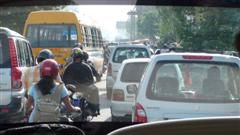 17:15
Arrived at the hotel, we have driven 250km today and that took all day long.
First a cup of coffee and drive on my new "bike". Thats a total different experience, you need to work very hard on it. Shifting and braking is not smooth on this bike. After 10 minutes i was finished, and had sweat everywhere.

Dinner was fine, had a soup, potato with "meat", french fries, noodels and a desert.

After dinner we watched how the mechanics tried to fix the lights on of the bikes. Pretty spartan but with thenecessary experience, and you should not be in a hurry.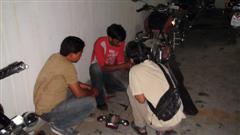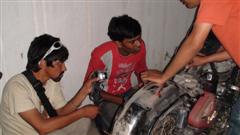 21:00
Called home, but nobody there. A little too early i guess, NL time there 17:30.