11:40
Break. Had a Coke.
During the ride the bike of Danielle broke down. The startengine does turn, but doesn't seem to catch the engine.
We suspect somthing witht the compression at first, at least the lack of. ( Danny thought something else, but that he will tell himself )
Eventualy Danielle sat behind Danny on his bike, while the mechanics are reparing the bike.

In this are the traffic is much more present, lot of
In dit gebied is het vele male drukker, veel shepherds, and a lot of trucks.
It seems more an industrial area. This are is also known for its appels, and the call it the appel-vally ( Himachale ).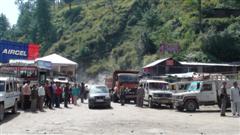 14:15
Next break. We went up, higer, and the roads are getting worse, but most of all, they get smaller.

During this ride we were "attacked" by a cow. Yes, you read it right, a cow. I drove as second last with Eddie behind me.
The cow ran as crazy together with us, on the left side of the small road. It tried to go to the right side.
I was just able to pass the cow, before it actually went to the ride side of the road, the side of the mountain.
In my rearview mirror i was able to see tha Eddie couldn't pass the cow. At a certain moment Eddie got almost attacked by the cow, but he
was just able to pass the cow while driving on the small side of the road looking at one side steep down.
Later on Eddie told us that he had a high pulse and a bunch of adrenaline at that point, and he was glad he could pass the cow.
Personnaly i think he has now a cath-up-cow-phobia received form his little adventure.
During the ride i saw that he was extra carefull with anything that has 4 legs and is on the road.

18:45
Arrived at our destinantion, a guest house which in a former
Aangekomen op de plaats van bestemming, een gasthuis in een voormalig monastery.

The way there was heavier than that we have had, but good to do. We came in the dark and the rain. It was raining since that afternoon.

After taken a "hot" shower, we went on the road to a hotel where we could dine.
When we arrived there were, it appeared that a large group of Enfield riders, with their 42 bikes, were landed at the hotel, and our reservation at the restaurant had been taken. So left us nothing else than to dine in the foyer of the hotel. Small but beautiful, and eventually pleasant.

The food was good and nice. Thereafter we went to bed and fell asleep ....

until 05:20....
We were awakened with a prayer song...Quickly put in my earplugs and took the last few hours of sleep.